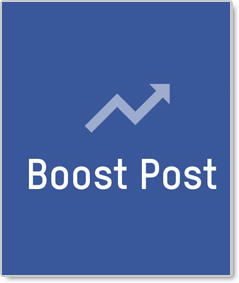 Social media has changed a lot over the past several years. Good content is still key, but reaching customers, even followers, now requires extra measures.

WHAT IS FACEBOOK POST BOOSTING?

A Facebook Post Boost is a type of paid advertisement on Facebook for promoting an existing post from your Facebook business page. Boosting your Facebook posts amplifies the reach of your content to connect you to a wider target audience, outside of people who are already following your Facebook business page.

When selecting a post for boosting, you will want to pick content that's helpful for your audience. Promoting sales promotions from time-to-time is fine, but for the best engagement, you will want to primarily choose posts with content that will benefit your target audience.

A Facebook Post Boost is much simpler to use than Facebook Ads that are created from Facebook Ad Manager or Power Editor. However, boosting posts lack the features and related benefits of Facebook Ads.

WHY BOOST?

In the early days of social media, posts from your page would show up to your followers, along with the posts from others that they were connected with. However today with the explosive growth of Facebook, the platform has implemented algorithms that prioritize and present those posts that are most relevant to the user.

Enter Facebook post boosting and Facebook Ads.

By paying a fee to Facebook, your posts are moved up in priority for the types of target customers that you select. Part of what makes boosting posts simpler to use than Facebook Ads, is that there are fewer choices that need to be made for targeting your ideal customers. But, of course, it is these additional choices that can make Facebook Ads a more valuable promotion tool.

HOW BOOST FACEBOOK POSTS?

Boosting a post is very easy to do and is available for any post on your Facebook business page timeline. To get started, you just click the blue 'Boost Post' button in the lower right-hand corner of your post.

After you click 'Boost Post,' you have the option to choose either pushing the post to "People who like your page and their friends" or "People you choose through targeting." You'll also be able to set your budget.

The targeting option lets you select which people you want to reach, as well as their location, age, gender and up to 10 interests.

You can then set your audience and budget. If you click 'More Options,' you can choose whether you want to spread the budget over a few days, with a maximum of 7 days.

After you boost a post, the ad results show up in your Facebook Ads Manager. There you can monitor the performance of your boosted post and run more detailed reports.
---
Add your comment here: