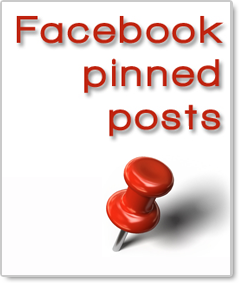 Pinning high-performing Facebook posts is easy to do, and it can help improve the engagement performance of your social media for generating sales for your business. Pinning involves selecting one of your past Facebook posts and getting it displayed as the very first post that visitors will see on your Facebook business page timeline.
BENEFITS
Maybe personally you are not a big fan of social media, but for your business, why do you invest in posting on social media? Is it to enhance your digital presence to impress new prospective clients? Is it to engage existing clients with helpful tips & reminders, to help stimulate repeat business and enhance your brand? Or is it all of the above?
Regardless, pinning high-performing posts can help you improve your Facebook engagement performance, because putting a high-performing post as the first post seen by visitors provides several benefits:
It sets an attractive tone for your Facebook business page.
It puts your best foot forward with content that you already know attracts engagement.
It helps improve your overall page engagement, which Facebook uses to determine your ranking for your future posts showing up in others' news feeds.
HOW-TO
If you are an admin or editor for your Facebook business page, to pin a post, all you need to do is:
From the timeline on your Facebook business page, scroll down to the post that you want to pin.
Click on the three horizontal dots in the top right-hand corner of this post.
Select the option 'Pin to Top of Page.'
BEST PRACTICES
An effective strategy of pinning posts is to select a post that has already demonstrated that it is generating engagement with your visitors. This can be indicated by high levels of clicks or likes. Of course, posts that generate clicks (indicating that visitors have been called to action or want more info) can be regarded as higher performing than posts that merely show likes (indicating visitors appreciate your posts).
Another effective approach is to choose a post that sets the tone of your Facebook page by giving visitors a sense of what your business is about. An attractive way of doing this is with a short video (less than 30 seconds), that is set to automatically start playing the video when your Facebook opens to display this post.
---
Add your comment here: