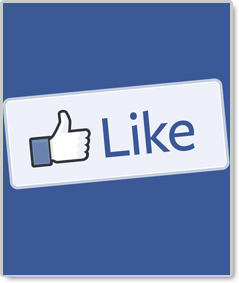 Measuring performance is important to every aspect of running any business. So when it comes to measuring the performance of digital marketing activities, the question comes up as to which is more important for measuring Facebook performance: likes or clicks? The answer is that while both are important, clicks are a much better indicator of performance for contributing sales and generating client engagement for your business.
DEFINING DIGITAL MARKETING SUCCESS
Measuring overall performance requires considering both qualitative and quantitative measures of performance.
Qualitative measures of the digital marketing performance of Facebook include an assessment of how well your posting activities are providing you with an enhanced digital presence. As new sales prospects approach your 'digital doorstep' to size up your business by visiting your Facebook page, does it give the visitor a strong impression that you are a professional organization that is committed to helping and engaging your clients with useful information? Or do they only just see advertisements and frivolous postings?
Quantitative measures of digital marketing performance, on the other hand, provide hard numbers that can indicate whether your digital marketing activities are helping you achieve your business objectives of actually increasing sales and generating client engagement. Two of these measures for Facebook are likes and clicks. Likes are recorded by Facebook when a visitor indicates that they appreciate what you have posted. Whereas clicks are recorded by software that tracks when a visitor clicks on your post in order to be taken to your website or to a site that you have sponsored which displays your branding and contact information.
WHY CLICKS ARE BETTER
Facebook likes are nice because they indicate that there is an appreciation for your business' posting activities. But likes are often called 'vanity metrics' because, although they are fun numbers to see and brag about, they have little or no correlation to actual return on investment (ROI).
Clicks are a better measure of digital marketing performance because they indicate that a visitor is both engaged and wants more information. Plus, for clicks that take visitors to your website, this brings them directly into your sales funnel. Clicks that take visitors to a site that you are sponsoring and displays your branding is still good, and is significantly better than clicking posts of articles that take the visitor to other people's websites with advertising and sponsorship by other businesses.
INCREASING BOTH LIKES AND CLICKS
Regardless of measuring likes or clicks, you will want to be sure that you are providing posting content that is useful for your target clients. Because having helpful information allows you to promote this as a benefit to your prospects and existing clients. So as such, rather than merely putting a typical 'follow us on Facebook' icon on your promotional materials, you can promote, for example, how they can save money and improve safety with your tips & reminders, by them following your business on Facebook.
In addition to enhancing your brand as a customer-focused business, being able to do these promotions drives activity to your Facebook page, which enables more opportunities for generating both likes and clicks.
---
Add your comment here: