HOME WIZARD
client engagement solution
eNewsletter
mobile app
advanced marketing tools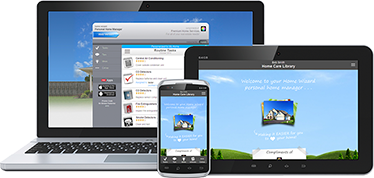 learn more

Benefits
If you are a Realtor, Home Inspector, Contractor or Builder . . . show your clients that you really care by offering them your custom branded Home Wizard eNewsletter & mobile app.
Home Wizard uses complex algorithms and a database of over 27,000 home care tasks, tips, and home improvement suggestions to calculate a highly personalized ideal home care program for each user's particular home and goals. And gives users rewards for completing their recommended home care tasks.
increases lead conversions
keeps you top of mind with your sphere of influence
leverages your existing marketing investments (CRM systems, social media platforms, webpages, etc.)
gives you value-added content for your social media, website, marketing materials, etc.
enhances your brand by helping your clients to care for their home beyond the transaction

increases referrals & repeat business,
and saves you time
In addition to interactive eNewsletter and mobile app . . .
ADVANCED
MARKETING
TOOLS
boost
EMAIL
SIGNATURE &
COLLATERAL
MATERIAL
your recommended contractors
boost
YOUR VALUE TO
NEW HOMEOWNERS
What existing users and clients are saying . . .
In a recent user survey, 98% rated Home-Wizard as either 'outstanding' or 'very good.'
And 88% said they would recommend Home-Wizard to a friend. see full user reviews >
Does Home Wizard really build client relationships and personal branding? see what existing home professionals are saying >
Home Wizard eNewsletter generates average monthly open rates of 35%.
Pricing
$39/month
15% discount for annual ($399/year)
Group discounts are available learn more >
If any of your subscribers signup as a client, you both get a bonus month
free ADVANCED MARKETING TOOLS
see full list of services & prices >
Getting Started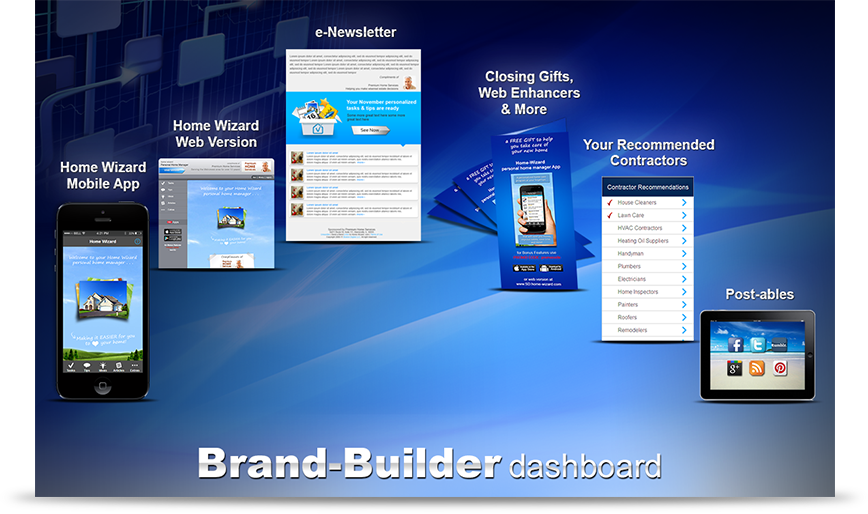 SIGN UP > questions? contact us >
CUSTOMIZE

with your pictures, logo, messages, etc.

ADD EMAIL LISTS

from Excel, Outlook, Top Producer, copy/paste, etc.

EXPLORE ADVANCED MARKETING TOOLS